The Inaugural Westchester Digital Summit had two goals: To educate and empower executives and businesses on all things digital marketing. A few years later, the results are in. Westchester is turning in to a hub for digital marketing success.
Everyone likes recognition. So on May 14, 2015 we recognized two businesses who are doing it best in our back yard. From pizzeria to PR the Chesters are a symbol of excellence in Digital Marketing.
Most Digitally Forward Thinking Business: Harrison Edwards
Description: The agency or brand using digital marketing in an original manner using multiple platforms to engage their audience for a specific goal.
Winner: Harrison Edwards for their work with RTK Environmental Group on the 'Ice Dam' Campaign.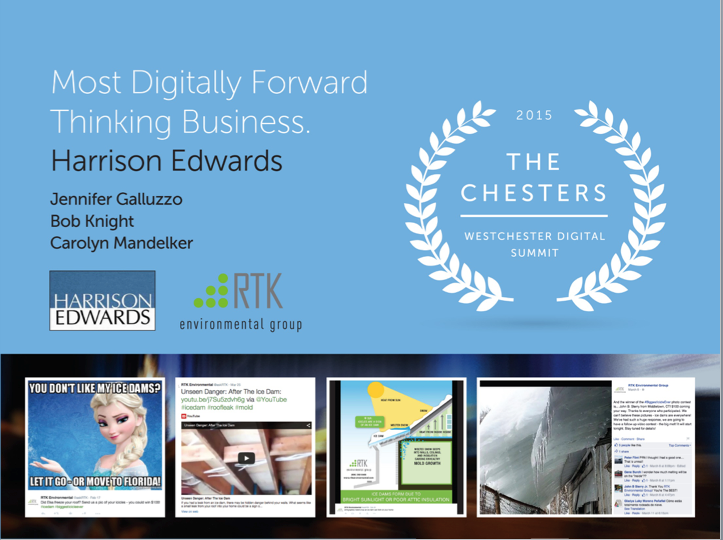 Best Use of Digital Marketing: Fortina Pizza
Description: Best small to medium sized company using digital marketing to amplify their brand and message.
Winner: Fortina Pizza for successfully taking the upbeat and fun environment of their restaurants and using it in their digital strategy. This marketing has helped Fortina expand from one location in Armonk, to a second in Rye and soon to be third in Stamford.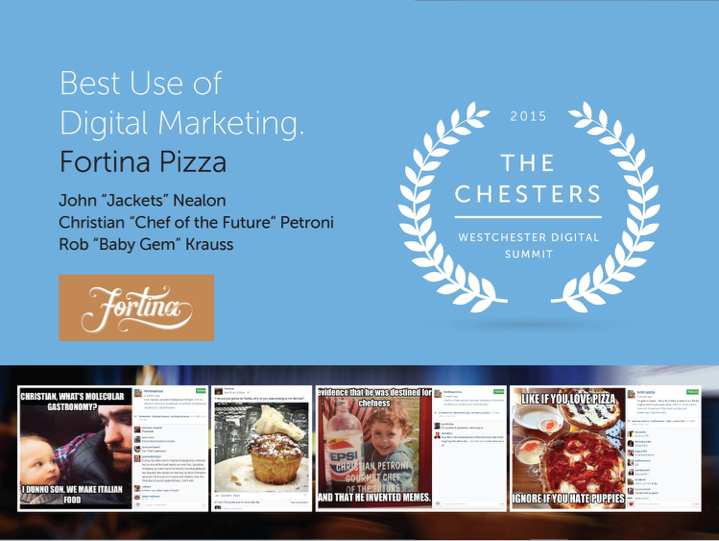 Who are the nominees?
The nominees are Westchester or Hudson Valley based businesses of all shapes and sizes. These companies and the individuals within them  have blazed a trail with their digital marketing and taken their business to new heights.
How does it work?
The judging panel will be composed of a Chesters Advisory Board.
All submissions must be through the online form and submitted to johnzanzarella@silverbacksocial.com
Winners will be announced at the Westchester Digital Summit in May of 2016.
Rules of entry:
Completely fill out the Chesters entry form and Include a maximum of three recent supporting examples illustrating why the nominee should be considered.
Additional information that may be required by the judges shall be asked for on a need-to-know/case-by-case basis.
Producers reserve the right to reproduce any materials submitted in connection with the promotion of the Westchester Digital Summit.
Decisions of the judges are final. No inquiries or comments will be entertained.
Submissions that do not meet the entry criteria in full will be disqualified from entry to the Awards and fees will not be refunded.
Nominators and nominees must be at least 18 years old.
The closing date for entries is Friday, May 8, 2016 11:59pm ET.
Entry fees & payment
$100 per business submission
All entry fees are non-refundable
*Businesses who have purchased a ticket to the event are eligible to enter without additional payment.